Flooring Updates – Selected Search Results Page
A connected Shildon-based flooring retailer sets a brisk pace for its competitors
Posted by:
FlooringMedia1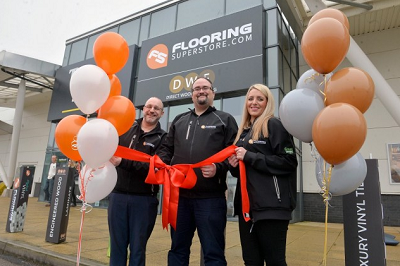 During the first half of 2018, an ambitious online flooring retailer plans to invest over £1 million. For what? Opening nine new brick and mortar stores. Where? Across the UK. Who is it? Connection Retail!
They already opened two stores in successive weeks. Two in Newport and Swindon in the month of January. Another in Edinburgh on Saturday February 10, 2018. The remaining nine stores in Keighley, Birmingham, Croydon, Crewe, York and Leeds are slated to open before May 31, 2018 that if successfully achieved should increase their physical store count > 130% in just over a year's time: The first store opened a year ago in Gateshead before February 28, 2017. Five more follow throughout the rest of last year, which represents an investment of over £1 million and in the process the creation of dozens of jobs.

At this brisk pace, the company's annual turnover will rise from £24 million to £35 million in 2019. The additional stores (all slated to open in 2018) will sell products from a trio of brands: Flooring Superstore, Direct Wood Flooring and Grass Direct. According to their Managing Director, Dan Foskett, "This year represents a significant expansion of our retail flooring business as we open new stores across England, Wales and Scotland." An expansion strategy complements the sizeable online presence; built up since the company began trading in 2012.

They have maintained an impressive rate of growth and maintain online prices in high street, stores. They are investing in the towns and cities served across the UK, which creates dozens of employment opportunities for local residents. The new stores will display Flooring Superstore and Direct Wood Flooring predominantly with Grass Direct less so.

A trio of brands translates into a wide variety of quality flooring, available at an affordable price. Available are laminate, luxury vinyl tiles as well as a wide selection of 'lifelike' artificial grass from the UK's largest range of flooring suppliers The latter is designed to meet the growing demand at home for artificial, rather than genuine grass.

Dan added "by uniting three high quality brands we are providing people with a one-stop-shop for all their flooring needs, reflecting the fact that householders are now likely to have multiple flooring choices inside and outside their home" and "It's an exciting time for the business as we shift from being purely e-commerce to building our physical presence throughout 2018 and beyond and becoming a leading player in the retail flooring industry."
Floor Covering Media publishes
press releases called Flooring Updates.
---
Floor Covering Media is
a social media network.
Retrieve timely, objective news and
information at https://www.floorsearch.info.
Flooring Updates – Selected Search Results Page