Flooring Updates – Selected Search Results Page
Artillery Tools proudly introduces their new Ultimate Flooring Bar
Posted by:
FlooringMedia1
The Ultimate Flooring Bar (UFB) is an efficient tool for flooring contractors and flooring installters; who are faced with flooring demolition tasks and floorprep tasks before the flooring installation begins.
With over one hundred (100) different prybar configurations to ensure that the right tear out tool is available when you need it or when your crew needs them, the Ultimate Flooring Bar is delivered with the following accessories, which inarguably makes it versatile, adaptable and ideally suited for even the most demanding flooring projects:
25″ handle
12″ extension handle
Standard Artillery® Fulcrum
Fulcrum Extender
Ball Grip & Cap
Salvage Blade
Toe Kick
Tear out tasks get done faster with considerably less effort, for
$211.00 plus shipping, which includes the accessories above.
Click on the image below to reach the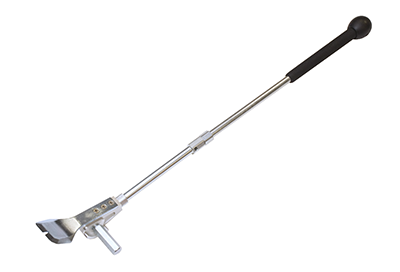 Learn about Artillery Tools' jobsite solutions. Visit their website.
Contact the owner of the company who is also the tool's inventor:
Joseph R. Skach
President
10260 SW Hoodview Drive
Tigard, OR 97224-4726
Toll Free: 866-968-2108
Phone: 503-968-2108
Mobile (Cell): 503-330-2822
Fax: 503-968-2858
Email Address: joe@artillerytools.com
Website: http://www.artillerytools.com
Click on the image below to reach the
Flooring Brief about Artillery Tools
10th Anniversary Announcement
September 20, 2003 to September 20, 2013
Click HERE to reach the Flooring Profile of Artillery Tools at Floor Covering Media.
Flooring Updates – Selected Search Results Page