Flooring Updates – Selected Search Results Page
Studded Rubber Flooring
Posted by:
FlooringMedia1

First Mats, an industrial health and safety mat supplier, added a new type of safety flooring to their family of rubber matting.

It's studded Rubber Flooring, a durable alternative for newer and older buildings. Property managers are likely to find value in this product, which protects existing surfaces from further damage and replaces already damaged surfaces. Extend the life of the 'base' layer. It is an immediate, affordable alternative to fully refurbishing or replacing a damaged floor.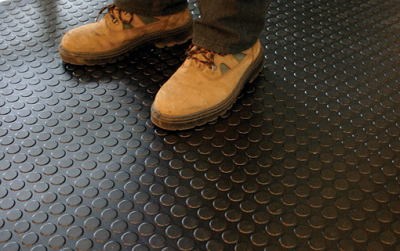 Available in two thicknesses (3mm & 4.5mm), it could be cut to custom lengths and can be purchased in either black or grey. Increase the grip of a surface. Reduce the danger of slips and falls. Made from natural rubber materials, this matting sports a studded (coin-shaped) pattern designed to increase traction while reducing a likelihood of slips and falls in the workplace.
Resistance Against:
Wear
Slips
Acid
Alkaline
It is a durable and cost-effective surface for professionals. This matting is ideal for walkways, corridors, stairwells and workshop floors. "The addition of Studded Rubber Flooring to our range represents our first step into the flooring market. We want to be able to cater for all of the flooring needs of our customers, to ultimately provide them with a better experience and service," according to Richard O'Connor, Director of Marketing & Strategy.
Floor Covering Media publishes
press releases called Flooring Updates.
---
Floor Covering Media is
a social media network.
Retrieve timely, objective news and
information at https://www.floorsearch.info.
Flooring Updates – Selected Search Results Page