Flooring Profiles – Selected Search Results Page
About Artillery (Artillery1)
Flooring Contractors: Can Your Pry Bar Do This?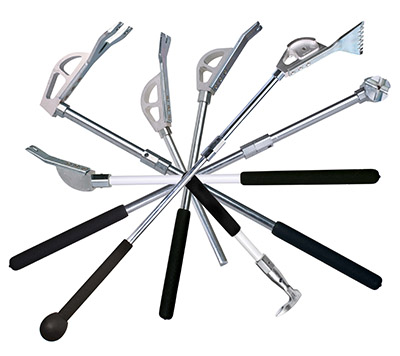 The Artillery® Pry Bar System is a modular demolition system ideal for separating interior --- and --- exterior floors from interior subfloors and exterior surfaces. Do-It-Yourself Consumers and Flooring Contractors, likely eager for new ways to finish floor prep tasks in a shorter span of time (avoiding back strain in the process), find this system a superior one.
--- Some System Features ---

It seems the ones who look closely at its features
are the ones who choose to invest in it.

This tool has numerous uses.
You can even assemble tool configurations
that are not available anywhere else.
Click here to see how to configure
The Artillery® Pry Bar System.

Lightweight/Portable:
The lightweight design minimizes fatigue and is perfect for working on ladders

where you need an extended reach or on big jobs. This feature also makes it

very portable which allows you to easily transport the Artillery® Pry Bar System

from jobsite to jobsite.

Materials:
Each component is made from materials to enhance durability and comfort:
zinc-plated 5160 tempered steel blades (durability), aircraft aluminum fulcrums,
medium carbon steel handles (durability), made in in America fiberglass handles and
vinyl foam handle grips (all-weather comfort).


Maximized Leverage:
Our patented design allows you to maximize prying forces, while combining
a unique prying motion, so you can get more of what you need done faster.
Plastic Carrying Case:
The plastic carrying case helps you keep your tools organized, protected and helps to
prevent them from getting lost. It also allows you to easily transport and store your tools
in a very compact space.


Modular:
The Artillery® Pry Bar System has interchangeable handles, fulcrums and blades that

allow you to quickly assemble the "ideal tool configuration" for each job.
--- Some System Benefits ---
The adaptability - to the leverage - that it provides

saves users time -and- wear & tear on the body.
This tool rewards its users with many benefits
to ensure that the job is done right -and- safe.

Speed:
Rip through demolition jobs in a fraction of the usual time.

(Isn't demolition the least appealing part of every remodel/reconstruction job?)


Increased Safety:
The ergonomic features may reduce workman's compensation injuries by reducing

worker wear & tear and the number of hours needed to do the demolition tear-out.

This prybar provides up to 5 3/4" of prying motion, which protects your fingers

from being smashed.
On-site Flexibility:
The Artillery® Pry Bar System's Disaster Restoration Set with its 60 different tool configurations can replace

many tools typically used for demolition including crowbars, chisels, flat bars, hammers, roofing shovels,

scrapers, nail pullers, shingle removers, staple pullers and wrecking bars.
--- Addressing Common Objections ---
Why not just use a crowbar? It's cheaper!
True, it costs less money to use a crowbar!
Though crowbars take more time and effort!
Crowbars are likelier to result in back strain!
Save Time! Reduce effort! Avoid back strain!
--- Allieviating Common Concerns ---
I'm worried assembling it is way too complicated!
NOT REALLY!
Here is how easy it is:
Pick the handle for leverage;

the fulcrum for function and the

best blade suited for the task.
See an instructional video about assembly.
Click here to reach the site page where this video

is displayed. Scroll to the bottom of that site page.

This tool is no one-trick pony.
Sound Interesting?
Click here to download the catalog.
Adjustible leverage
for pying scraping & bending
FLOORING

Flooring Profiles – Selected Search Results Page